About Us
Circulation Profile:
The Chaldean Detroit Times is the only bilingual publication in Arabic and English and has been in circulation since 1990.
More than 10,000 copies of the Chaldean Detroit Times are published and distributed on a biweekly basis.
Approximately more than 20,000 individuals read our newspaper.
Our mailing list contains thousands of professional individuals, businesses, households, government organizations, clubs, and local, state, federal politicians.
Our newspaper is distributed nationally and soon internationally.
<![if !vml]>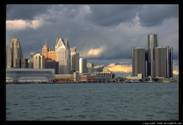 <![endif]><![if !vml]>

<![endif]>
Do You Know?…
1.2 Million Middle Easterners reside in America according to the 2000 Census Bureau and more than 450,000 alone reside in Michigan.
Approximately 50% of those communities cannot read English.
The majority of the Middle Easterners in Michigan live in the Tri-County Area.
Many Middle Easterners look for an economic opportunity in America, there for they create an "untapped" market.